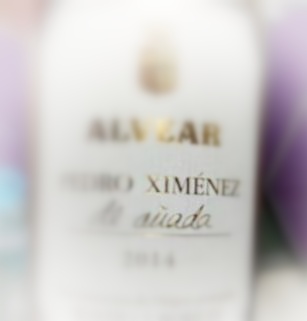 Normally we hold the word "syrupy" as a pejorative, hinting at cough medicine or sickeningly sugary prison wine. I'm a fan of dessert wine, and at the same time have encountered my fair share of syrupy garbage that is sold as such, so I'm tuned into when a sweet wine hits the mark, and when it doesn't.
Meet Alvear's Pedro Ximénez de Añada 2014, a delicious wine that I can say defies the pejorative, and wears its syrupy nature with pride. This is thick and viscous, clinging to the bottle as if it doesn't want to fall into your glass, the tease. The nose telegraphs everything the palate will experience: flowers, plums and figs. No raisins here, like so many other dessert wines, this comes off as more sophisticated and mature, but nevertheless is shockingly sweet. How Alvear managed to pump so much sugar into a wine and keep it from becoming cloying, I don't know. It's smooth and rich, and at 17% alcohol, a powerful sweet treat.
I can't recommend pairing this with a dessert as the wine should be served as the dessert. I told that to a table of friends, and they thought I was insane, as they looked around for their after-dinner cake or chocolate. After they had a tiny glass or two, they were utterly satisfied, and not a single piece of cake was served.
The potent alcohol content means you serve this in aperitif glasses, and despite the bottle being undersized, this will likely last a while. Having said that, only days after our tasting party, I was approached by a number of people who asked if I had more bottles of this Alvear to share; it was a huge hit.
Visit the Alvear website here.