As I'll be writing shortly, for whatever reason 2016 has been the year of the New Zealand Sauvignon Blanc at Winepisser. Despite this, no NZ SB has made our five-star list, and you'd think one was due. This trend remains true as we announce our latest five-star winner, the scrumptious Domaine des Sénéchaux Chateauneuf-du-Pape 2012 red from the Rhone region of our beloved sister in freedom, France. A gooey French red is about as far from a nautical Antipodal white as you can get.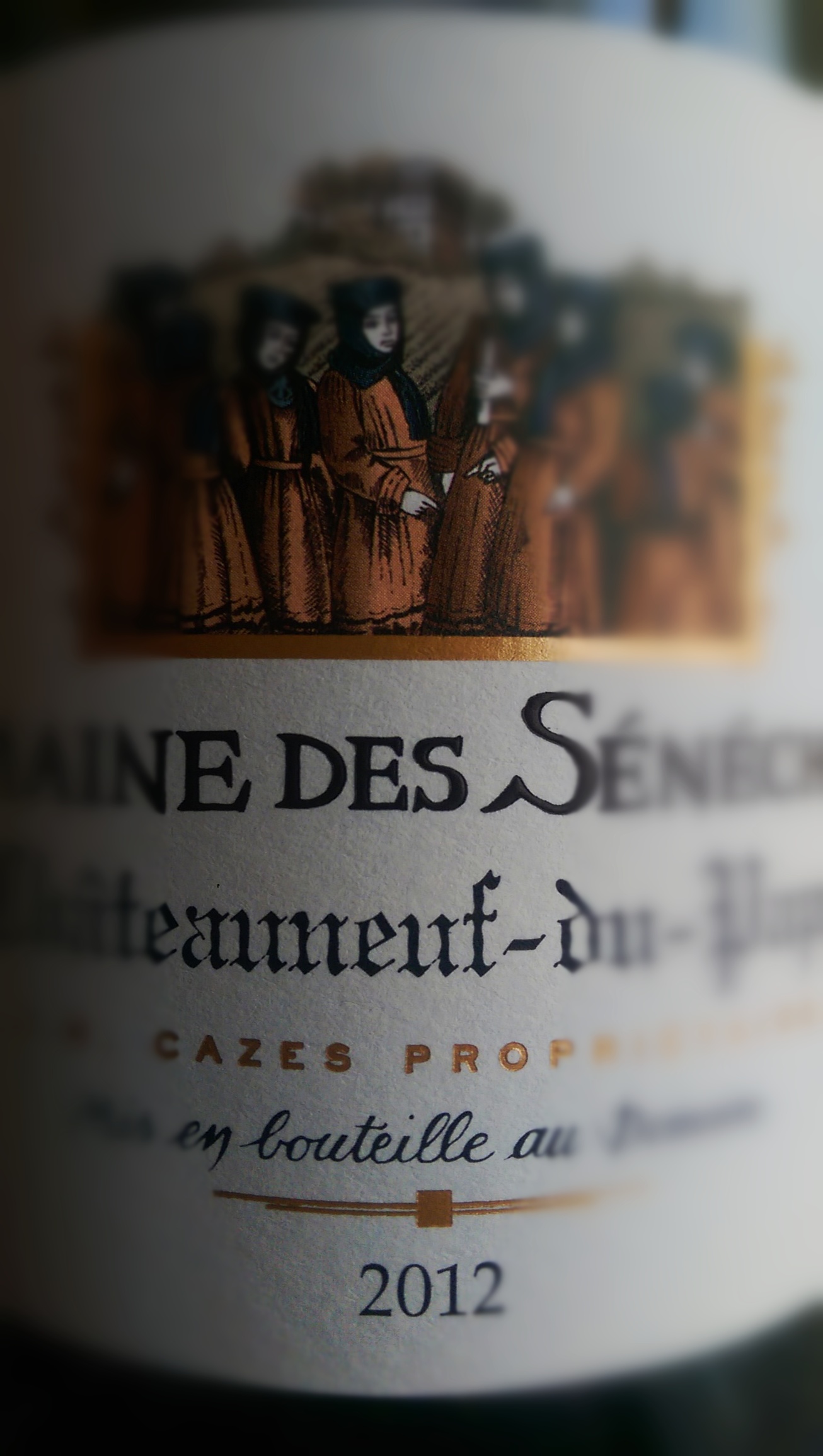 But hot damn, this one's amazing. I have always enjoyed CDP, for its easy drinking, luscious fruit and always pleasant perfume. But CDP is also a mixed bag, with different labels and bottles often tasting differently from one another, it's is not uncommon to find an occasional bland stinker. When ordering a red I tend to lean towards a cheap-o Beaujolais Villages, a latin Malbec or even one of those whackjob lab-made red blends coming out of California. Once in a while, however, I remember to grab a Chateauneuf-du-Pape, and immediately kick myself for not doing so more often.
This one, from the J. M. Cazes family, is just a stunner. It's not at all heavy, but nevertheless paired well with a bold steak dish. Trying it again, we paired it with a plate designed to make pairing impossible — lamb chops fried in trufflo oil and then smothered in truffle butter, and served with simple boiled potatoes and seared asparagus — and I'll be goddamned, the wine held up and pruduced the elusive "third tongue" flavors that always indicate a winning pairing.
Even after that, it remained a favorite during dessert (one time chocolate cake, another time banana cream pie!) and drank equally well by itself.
In keeping with Winepisser history lessons, let me educate you. Few know that the term "Châteauneuf-du-Pape" means, in French, "the Pope's black prostitute." The origin of the wine is mysterious, but we do know that randy Pope Illicit XII drank the stuff while brotheling across much of Europe, often sipping the wine from the bellybuttons of what he called "my horde of negress jaspacians," the latter word meaning nothing at all, but in keeping with the fact that Pope Illicit XII rarely spoke anything sensible, seeing as how he was always drinking wine from black slaves' bellybuttons. He was a wretched man, for sure, and is probably rotting next to Himmler and Pol Pot in the Pit. But he did spread the gospel of this fantastic wine, even more than he spread the papal clap.
Regardless of its dubious pedigree, the Domaine des Sénéchaux CDP is a fantastic example of the breed. The winery says this blend is "unfiltered and composed of 64% Grenache, 19% Syrah, 15% Mourvèdre and 2% Vaccarèse-Cinsault," which is stunning to me, since the grenache is now the dominant flavor here. Its full of light fruit, without becoming overly jammy, and perfectly balanced acid and tannin that makes for a delightful glass.  What jamminess there is, it's not a grape jam flavor seeking a peanut butter partner, it's delicate and less ostentatious, but nevertheless unafraid to declare it's fruit genetics.
Or list of five-starrers in competition for the 2016 Winepisser Best Wine grows even more international, as this fantastic CDP now competes with an Uruguayan tannat, two German Rieslings, a Torrontes from Argentina, a Hungarian Tokaji, and a whackjob, lab-made red bend from California. What a mix!
Learn more about the wine directly from the Domaine des Sénéchaux website here.