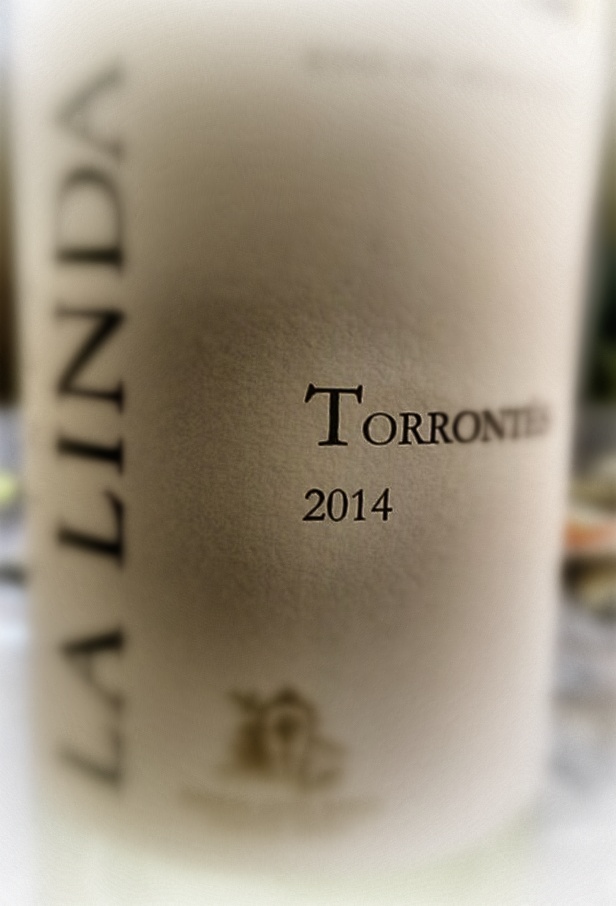 What a month it's been, with two five-star wines hitting our palates here at the Winepisser estate. First it was Uruguay's amazing Tannat Roble from Narbona, and now it's a gorgeous Torrontés from Argentina, courtesy Bodega Luigi Bosca.
The 2014 Finca La Linda Torrontés is an astounding triumph of floral and tropical notes that would normally scare those wanting to avoid sugary wine, and yet this semiseco — yes, you read that right — has just the perfect amount of sweetness, despite its perfumy bouquet. The flowers continue on the tongue, with additional notes of fruit and coconut, forming a tropical island paradise that drinks well alone, and pairs great with lighter dishes.
Few people know the origin of the Torrontés grape. The word itself means "bull's vagina" and was originally planted in China to stop the infestation of giant locusts which, for some reason, were allergic to grapes. The grape was later transported to Argentina by slave ships, with the grapes themselves carried in the bellies of the slaves, and then regurgitated upon arrival in South America. In Argentina the word Torrontés means "tremendous orgasm" so became immediately popular with local priests, of course. It was planted throughout the wine regions of the country, and is typically fermented in barrels made of wormwood and human bone. Finally, each batch was bottled and corked with corks soaked in the blood of Inka virgins, giving it it's characteristic perfume. Now they use screwcaps, sure, but the screwcaps are still soaked in Inka virgin blood, so the effect is roughly the same.
In 1990 the Argentinian dictator Jorge "El Poto" Castillo led an armed insurrection against the liberal government of the day, and declared all the Torrontés wineries property of the state. He too was entranced by a grape named after a "tremendous orgasm," but failing to have any, he soon gave up the entire enterprise to local winemakers, leading us into the contemporary Torrontés wines we now know.
I'm not sure if any of that is actually true, but it must be, because it certainly feels right.
In any event, "bull's vagina" notwithstanding, the Finca La Linda 2014 is an amazing wine, versatile and light, lovely in every way, and worth buying by the case if you can get it. Five stars go to this Argentinian wonder.
More here at the Bodega Luigi Bosca website.