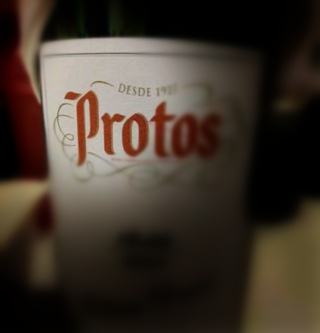 We placed this into a mano a mano battle versus Argentina's Zuccardi Q 2012 offering, and it was a close match. Eventually, however, this Protos Ribera del Duero Roble 2015 won out, largely on the basis of is perfect tannin balance and playfully misleading nose.
In the glass, the color is dark purple, a hue that car manufacturers wish they could mimic. On the nose it's sweet black cherry and chocolate, but it's a clever ruse: that sweetness doesn't show up as jammy sugar on the palate. The tannins are smooth without being so lush as to become blanketed over, and the robust flavor in play here is a unique cherry, with a hint of cellar must.
This was tried over a two day period, tasted multiple times against the Zuccardi Q, both by itself and paired with various plates. The Zuccardi Q did well, but the Protos just enhanced anything that it was paired with, from Peruvian lomo saltado to spicy chicken. We even handed this off to some non-wine lovers, and they thought it was a winner.
Highly recommended.
More information from Protos here.