I came across the wine art of Monica Marquez Gatica on LinkedIn, of all places, where she posted that she is available for commission work. I then checked out her wine art page — here — and think it would be a great option for restaurant wall art, menus, etc.
For this piece below, Monica says, "the white wine is done in acrylic pouring and the wine glass, and background are done in traditional oils."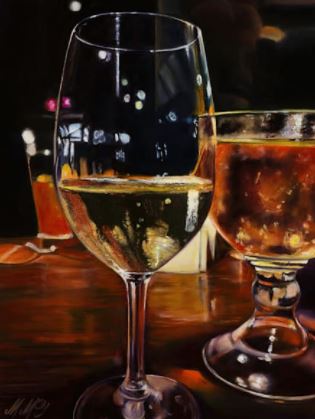 My favorite from her current gallery is this red wine piece:
Monica is originally from Jerez Spain (in the Andalusian country) and resides in Colorado.
I'm intentionally providing low-res images here, and I invite you to visit Monica's gallery page to see them in higher resolution, and check out purchase options. Monica also offers free consultation regarding her art and commission pieces.
Full disclosure: I have no relationship with Monica, and only caught her art by accident on LinkedIn. I simply think it's unique to see someone focusing on wine as a subject of painting, and that this might be of interest to the readers here.