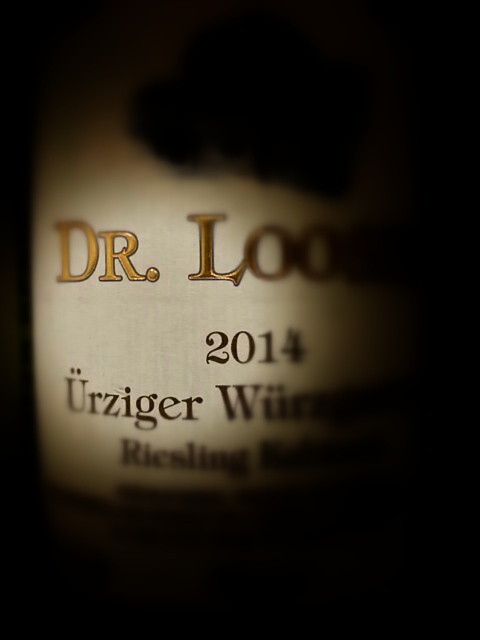 It seemed a surefire certainty that a Riesling from the good Dr. Loosen would hit the five-star mark here at Winepisser sooner or later, but I admit to thinking it would be later. Surprise, the 2014 Ürziger Würzgarten Kabinett Riesling steals our hearts as we wait for Hugel et Fils to release something that reaches their 2009 Jubilee. But the winetongue is fickle, and the Germans have snatched the title away from the French, for now.
The journey to a five-star rating for Loosen was a quick one, and nearly entirely forced by circumstance. As a bicontinental, I found myself staying for an extended time in Peru, where there simply isn't a great selection of Euro-booze from which to choose. The selection of malbecs and tannats and torrontes is unmatched, but if you say "alsace" out loud, someone is going to say salud (Spanish for "gesundheit.") Furthermore, Peruanos prefer their wine red, probably to fantasize about the blood of Chilenos they'd like to spill, ignoring the fact that the bottle they're drinking probably came from Chile. Fortunately for Dr. Loosen — or, more likely, his aggressive export licensor — there appears to be a ready supply of Rieslings from his label: the low end Dr. L, the middle-rung Blue Slate, and this fine Ürziger Würzgarten Kabinett.
I bought these in no particular order, but it merely happened that the ratings kept improving: three stars for the Doc L, three and a half for the Blue. Things just kept getting better and better. So the trajectory seemed in Loosen's favor towards a five-star hit. That it came only a month after reviewing the first one is a happy surprise.
In Peru, this stuff's not cheap. It's grossly marked up, topping nearly 200 soles, or $57 a bottle, while elsewhere in the world the same bottle sells for a fraction of that. So if you can get it below that price point — assuming price matters to you at all — grab it by the case. In my house, the family has widely disparate tastes, with some favoring brown bag sewer syrup, and others a more sophisticated, sniffable snoot. But we passed the Dr. Loosen around and it produced nothing but smiles. The sugar is light and just enough, the fruit is evident without being abrasive, the acid is light, and the entire thing is well balanced. At only 7.5% alcohol, it's almost a diet wine, but that just makes it easier to drink during any occasion.
I am suspicious of any European or US import I see popping up on nearly every wine shelf in Lima, and sure enough the filth-flecked uberpiss of Ch. Ste Michelle floods the market even here, so it was originally with great trepidation that I approached Dr. Loosen's whites. I am happy to be proven wrong, not only about the state of European imports in Peru, but also about my previous slanting towards French Rieslings over their alemán counterparts.
So congratulations to March's first (possibly only?) five-star ranked wine. If you're keeping track, that means the 2014 Dr. Loosen Ürziger Würzgarten Kabinett will — so far — face off against Argentina's 2014 Finca La Linda Torrontés, Uruguay's 2010 Narbona Tannat Roble and a competing German, the Schloss Vollrads Qualitätswein Rheingau Riesling for the 2016 Winepisser Best Wine award.
Visit the Dr. Loosen site to learn more about this fantastic wine from the Mosel region.