Through some grace of Fortune, I found myself traveling to Orlando and stuck in a hotel over the weekend, right during Walt Disney World's 2016 Food and Wine Festival at Epcot. Oh, yeah.
I hit the thing mad early, even before it opened, and was immediately weakened by the oppressive heat. The lines were insanely long, the sun was baking, and I was stuck without proper Disney park attire, not having come into town for the purposes of walking around in the heat all day. But just on the other side of Futureworld lay my second favorite thing in life, the WDW Food and Wine Fest, so I would have gone even if I was wearing a parka that had been lit on fire.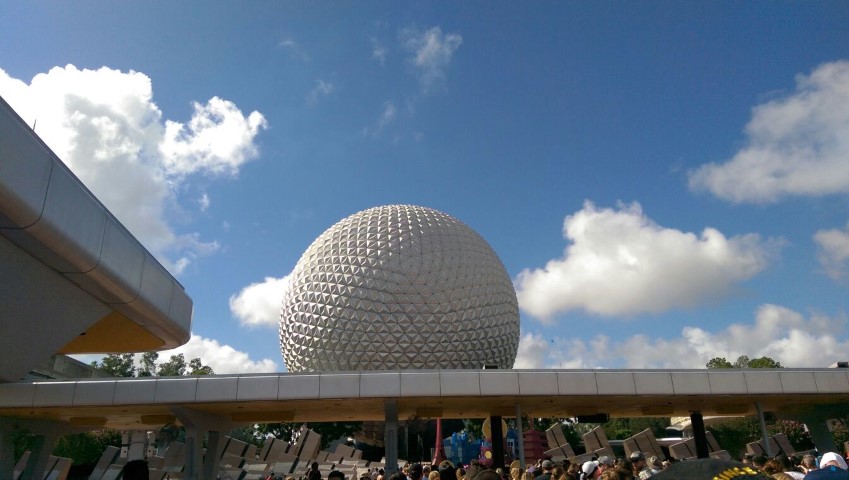 If you're not familiar, the F&W festival features kiosks spread out across the World Showcase of Epcot, each featuring two or three small taster plates and associated wines or beers, with each kiosk representing a different nation or region. Unless you're obese and have no liver, you can't eat and drink everything there in one day, so you have to pace yourself and select per your tastes. I made it only 2/3 of the way through before I could take no more, and am now trying to arrange my schedule to come back again before it ends in November, so I can finish sampling the regions I missed.
(FYI, you can few the menus and offerings here, but note that when I went, this was not completely accurate, and a few kiosks had less actual offerings than what is listed on that site. When I went, there was no plum wine offering at China, for example.)
What I did taste was nearly entirely spectacular, at least as far as the food went; the wine was hit-and-miss, unfortunately. I've been to the F&W festival many times (at least seven or eight), so I know what to expect. The food will be amazing, and the wine selection will be top notch. I don't always agree with their pairing suggestions, and the wines are mostly commercial stuff — Disney isn't opening up the cellars of fine collections here — but nowhere else can you get this range of plates and wines from all around the world in a single setting. As we will see, however, this year's wine offerings were not up to par with previous years.
The World Showcase is designed as a circular path around the big central lake, so I entered the area and turned left, working the park clockwise. Not sure why I do that, perhaps it's usually because I head for the Mexico pavillion's amazing San Angel Inn restaurant when I'm not there for the festival. In any event, this put me in front of the Florida food kiosk first, which had nothing of interest (mac and cheese? really?) so I kept walking.
This meant my first kiosk of interest was New Zealand kiosk. I knew what I could expect: mad Marlborough Sauvignon Blancs, my latest obsession! Right I was, and the menu was offering a 2015 Mohua SB, as well as a Kim Crawford pinot gris and Nobilo Icon pinot noir. I selected the venison and kumara dumpling plate, so I paired it with the Mohua. This would prove the best dish of the day, as well as the best pairing.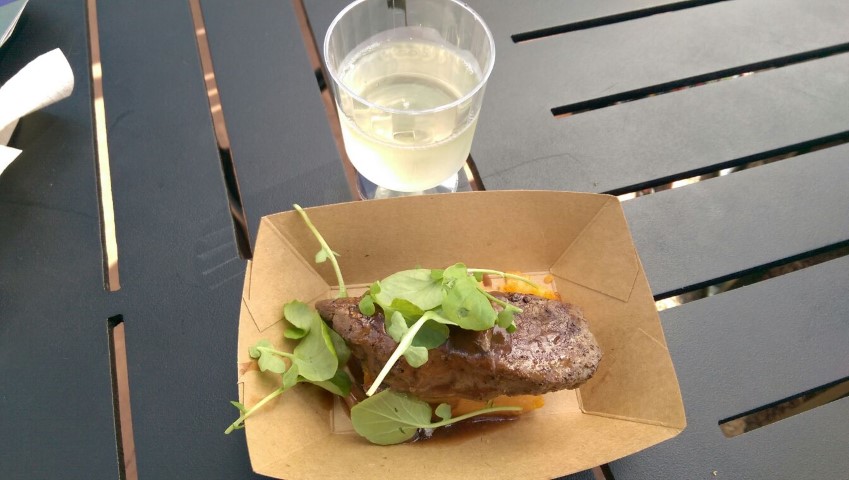 Mohua Marlborough Sauvignon Blanc – 2015
The usual grassy, minerally and utterly astounding flavors that make New Zealand the undisputed paradise for sauvignon blanc are all here, in abundance. Not much nose, so all the flavors are in the glass. Paired with seared venison for a perfect experience.




Moving on, the next kiosk of interest was New Zealand's hulking neighbor, Australia. In previous years, New Zealand kiosk would feature a lamb chop plate, but this year the Aussies had one, garnished with mint pesto and "potato crunchies," the latter basically being potato chip crumbs. The plate was fairly terrible, as the chop was all fat, and I couldn't even cut it with the plastic knife that Disney provides. Flavor was okay, but I think they forgot to add the mint to the pesto. I paired this with a shiraz, per the chef's suggestion, and this was probably not a smart pairing (the dry riesling offering from Chateau Tanunda would have worked better, in retrospect.)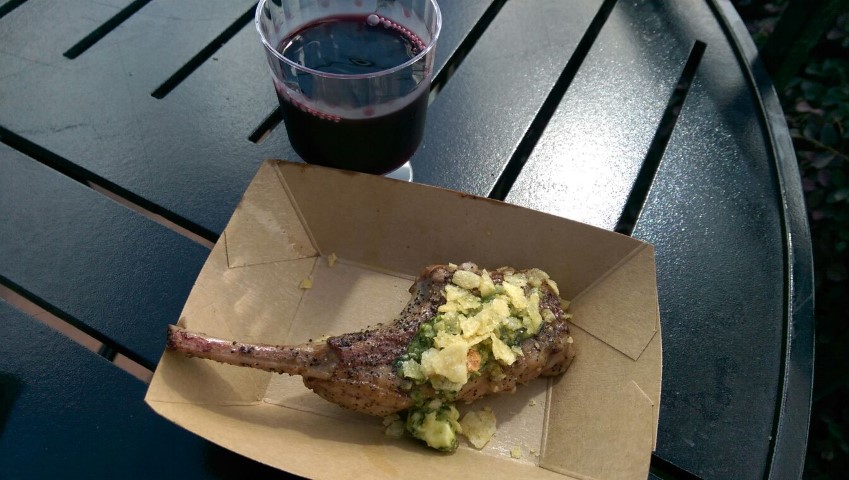 Yongarra Estate Vineyard McLaren Vale Shiraz – 2013
An okay shiraz but lacking in depth and finish. Barely stood up to an otherwise bland and lightly garlicked lamb chop, and overall forgettable. Still, my suspicions are that with the right dish, this might come alive, so I'm rating it higher than I otherwise might.



Then it was onto the Mexico kiosk, which offered tacos de camaron and a barbacoa enchilada con mole. But… no wine. As someone who's traveled to Mexico, I can attest that, yes, they have wine and it's pretty damn good. The lack of a wine offering, and a fear that I'd fill up on comida mexicana before I got very far on my world tour led me to skip the kiosk, thinking I'd come back later. That never happened, and thus the need to return soon.
Next up was China, which also lacked a wine pairing. Here I skipped the main plate offerings (roasted duck in steamed bun, and sichuan spicy chicken) because I again didn't want to fill up, but I did grab the pot stickers because… pot stickers! Again, frustrating that there was no Chinese wine offering here, as China is a developing producer and if you are going to find a Chinese wine anywhere, it should be at the Epcot festival… right?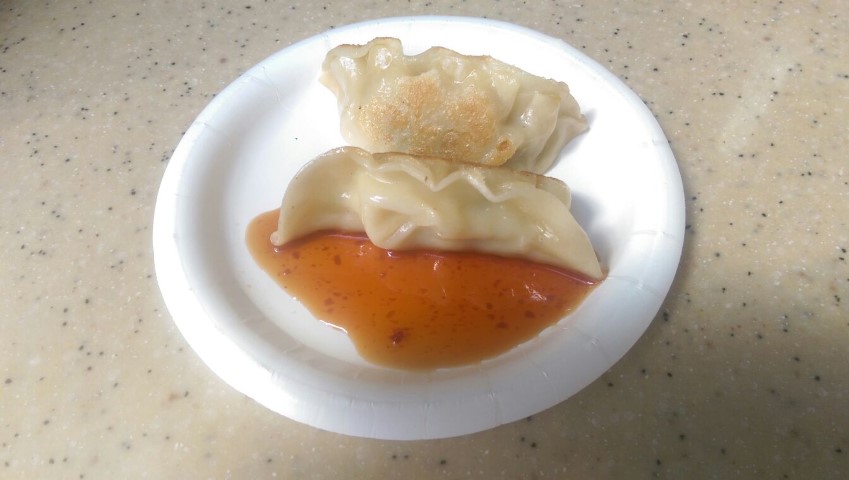 I shuffled past the South Korea kiosk, which offered Korean style BBQ beef and kimchi and roasted pork lettuce wrap, and now I regret it. I was getting pissed that the two previous kiosks didn't have wine offerings, and when I saw the Korean offering was a "raspberry wine" I suddenly felt I had been transported to one of those horrid Pennsylvania "local wineries" where they may offer an actual grape-based bottle, but you're more likely to them fermenting whatever fruit they could buy at the local Ingles. Seriously, Earth, just stop it with the raspberry wine already. We're trying to have a civilization here.
Things were starting to look bad, but then I happily landed at the Africa kiosk — yes, Disney treats "Africa" as a country, not a continent — and I figured I'd find some exotic wine or, at least, a healthy offering from those racisty white people at the southern tip. Sure enough, there were three fine offerings: an Indaba chenin blanc, Simonsig pinotage and Western Cape sweet shiraz. I ordered the berbere-style sirloin tips with onion, tomato, jalapeno and pap, and paired it with the pinotage. The food was excellent… the wine, not so much.
Simonsig Stellonbosch Pinotage – South Africa – 2014
Unforgettable and bland, like a Jill Stein speech written by a prototype machine learning program. Literally forgettable, a few minutes in and I had thought I forgot to order a wine, the flavor disappeared that fast.


The memories of that first New Zealand SB still kept my spirits up, hoping I'd find some great and memorable wines to make up for the horrid South African offering and the kiosks that skipped wine altogether, and I came upon the German kiosk. My mother had been adopted by Germans, and cooked a lot of German-influenced food when I was a kid, and most of it was not particularly good, so I don't have a love for the Deutsch Küche, and the offering was nearly offensive in its stereotyping: bratwurst and strudel, but the wine offerings were kick-ass. Before me were a J&H Selbach Bernkasteler Kurfürstlay Riesling Kabinett, a Selbach-Oster Zeltinger Sonnenuhr Riesling Spätlese and a J&H Selbach Bernkasteler Kurfürstlay Riesling. I should have ordered all three, but I still anticipated a lot more kiosking to do, and didn't want to be totally hammered, even if the glasses are tiny. I opted for the Spätlese, and was happily knocked off my feet.
Selbach-Oster Zeltinger Sonnenuhr Riesling Spätlese – Germany – 2013
Viscous and sweet, but not syrupy, and surprisingly refreshing and crisp despite the sugar. Don't serve this as a dessert wine, as you'd be missing the point; instead, pair this with a main plate for your friends who don't like dry wine. Melon and spice are prominent here. Highly recommended.




The German kiosk was located, not surprisingly, outside the German pavilion, which features a great in-park wine store called the Weinkeller, so I temporarily drifted off my path and decided to create a wine flight of the offerings inside. The Weinkeller offers two wine flights of three 2-oz. samples, one for red and one for white, and I had tried the white previously (here, here and here), and wasn't up for reds, so I decided to make my own. The wine pourer indicated that they don't offer custom flights, so I'd have to buy three full 6-oz, glasses; pushing 2/3 caution to the wind, I decided to try two glasses, in the hope that I wouldn't be so drunk afterwards that I'd be dragged from the park by an angry Chip and Dale.
PJ Valckenberg Rhieinhassen "Madonna" Liebfraumilch Qualitatswein – Germany – 2009
Very smooth, delicate and never oversweet, this will be a hit with your uppity wine pitucos as well as the newbies who prefer sweeter wines. Should pair nicely with fish, or light meats.



PJ Valckenberg Gewurztraminer – Germany – 2012
Medium sweet, and surprisingly subdued for a gwerz, but delicious nonetheless. Have fun, serve this blind to your wine snob pals and see if anyone notices it's a Gewurztraminer.



At this point I was no longer walking straight, and I swear I started seeing hallucinations of creatures that looked like giant, man-sized mice, women dressed as cartoon princesses, and a smartassed blue genie. I needed some food more lumping waffles for my dumptruck, so I headed over to the Poland kiosk, and ordered the keilbasa and pierogi plate. I'm not a fan of pierogis, but these were rather nice, and the kielbasa was out of this world. Paired with this was a Hungarian wine which proved unmemorable.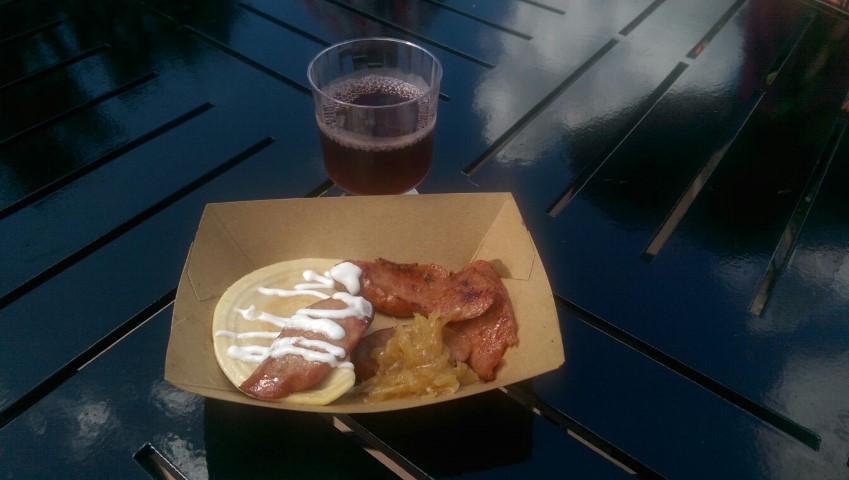 Donausonne Blaufränkisch – Hungary – 2012
Tepid, watery and a little too sweet, this is a disappointing mess. Almost seems like the kids drank half a bottle, then poured water back in so mom wouldn't notice.


Next I headed to the Italian dessert kiosk — a permanent stand, not one set up for the festival — and grabbed my favorite Epcot dessert: chocolate covered cannoli. (Hint to Disney cast members running the desert kiosk: some of us know enough Italian to know when you're talking about us. Not cool.)
At this point I was running out of steam, with little less than a half of the festival to go. I knew I wasn't going to make it, and would have to come back. So far the experience was a mixed bag, and the wine wasn't universally awesome as in previous years. But I also know that some of this was bad luck, as I was probably selecting the wrong wine in some cases. At least I hope so.
The next kiosk was Italy, and I liek Italian wines, but am not fanatical about them. I opted to keep walking since I knew I only had about one more glass to go before I was unconscious and drooling like a stooge, and I didn't want to waste it on something I wasn't going to love. I headed to the Morocco kiosk, and opted for a Moroccan white. This was not a wise decision.
Celliers de Meknes – Les Trois Domaines Guerrouane Blanc – Morocco – 2014
If you like your wine to taste like the excess water from a can of supermarket olives, then this is the wine for you. If, on the other hand, you exist in the civilized world, you'll only use this wine to poison your neighbor's noisy parrot. I swear I tasted a hint of gasoline, making me think the bottle had been intended for use as a Molotov cocktail, but got re-purposed for Disney when the street revolt was cancelled.

That was a disappointing finish. At this point the heat and too much alcohol was having its way with me, and it was time to rest. I shopped a bit in the Japan store, grabbing lots of Studio Ghibli merch for the fam, but knew I didn't have any steam left in the underboiler to try any more dishes or wines. I'd have to come back. Brokenhearted, I walked past the kiosks for Brazil, Patagonia, Ireland, Islands of the Caribbean, and others.
Overall, though, it was an underwhelming wine day. The wines were mostly uninspiring, even the more exotic ones, and a typical trip to Total Wine offers more exciting options. The food was amazing, yes, but come on … they actually serve the swill of the damned, that goddamned awful sluice-gate overspill Chateau Ste. Michelle Riesling! I mean, sweet Jesus on a pogo stick, what deal with which demons did those Washingtonian bastards make to have their garbage spread across the entirety of the United States? I swear to all that's holy, the plague in The Last Ship was brought on by Ste. Michelle Riesling, since it's omipresence makes it the perfect carrier for a liquid-born terrorist virus.
I do intend on returning, if my schedule allows, but I'm not enthused. From a wine standpoint, the 2016 festival is — so far– shaping up to be a letdown.