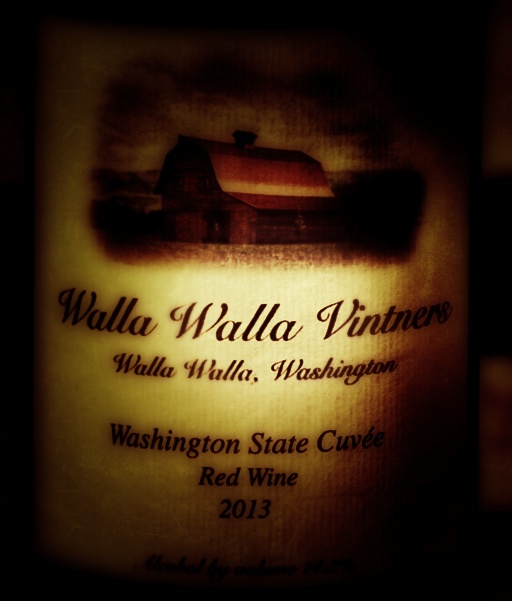 My aerospace travels took me, of all places, to Redmond WA, literally pissing distance from the godawful Chateau Ste. Michelle winery where, if there weren't so many damned cameras around these days, I probably would have literally pissed on the building. And the wine might have tasted better as a result.
Thanks to Hurricane Harvey, I was trapped in the region, since my flight out of Seattle was intended to layover in Houston. United Airlines — yeah, the one that drags doctors off planes and then fills them full of scorpions (the planes, not the doctors, but anything's possible), thinks it's a good idea to intentional route traffic into a major national disaster zone. Since I didn't want to become United's next headline, I opted to sit tight in the Seattle area and wait for flights that didn't put me in the middle of the worst human disaster in recent history. That gave me a few extra days to stumble aimlessly through the area, check out the gorgeous wineries, evergreen trees and misty hills, while sampling some local vintages.
I was struck at an odd contradiction: while, sure, there were plenty of wineries offering tours and tastings, the local restaurants — most of which marketed themselves literally using the words "hip" and "trendy" — nevertheless listed precious few Columbia Valley wines on their lists. Instead, the restaurants tended to offer a really great selection of wines from California, New Zealand, Argentina, Italy and France. Of course every single menu also had at least one Chateau Ste. Michelle bottle listed, but we've already discovered that is a menu printing issue, and not an actual endorsement by any living, breathing restaurant wine buyer. One old-style, authentic Italian joint I ate at was so hardcore authentic Italian, their wine list — which must have had at least 200 bottles offered — didn't have a single wine from any country that didn't look like a boot. Try finding this to be true in Napa.
So it wasn't confidence inspiring, if even the local buyers are not pushing the local wineries. Also, many of the properties with signs announcing themselves as so-called "estate" wineries looked a lot like dubious wood-paneled houses from the 1970's that probably have trampolines and cars on blocks in the back yard; it seems anyone with a few grapes on their property can call themselves a winery in this region. I'm betting a few of these so-called "estates" have bodies buried under their porches.  Imagine one of those western highway pull-overs that sell dreamcatchers and pickled rabbit fetuses labeled "alien babies," but without the dreamcatchers or pickled rabbit fetuses.
So I gave up on trying to find a decent winery to tour, partly due to my typical ennui about it all, and partly because the rental car company had given me an Infiniti and I was enjoying driving, not pulling over. Instead I found the better local wine shops, and got recommendations from the sellers there.
During the trip I tried to seek out an equal number of local Columbia Valley whites and reds, and — as you'll see — was generally unimpressed. While the ones I tasted were generally better than the Ste. Michelle swill, they still weren't up there with the products coming out of other regions. I was, however, surprised at the variety of offerings, and we did hit it lucky with one spectacular, five-star red, and an amazing five-star riesling, both of which I'll save for last.
The Reds:
Charles & Charles Cabernet Blend
Weird but interesting nose, like an actress who considers surgery but probably shouldn't. Powerful berry mixed with hints of menthol and peppermint and rich soil. On the palate it's smooth due to low tannins and low acid, so didn't hold up well with classic ribeye. Better to drink this solo.



Northstar Columbia Valley Merlot – 2012
Woody goodness in the shnozz but disappointing otherwise. Given the great reviews for this I was surprised and the blame must lie with the vintage. Paired with wagyu flatiron steak and chimichurri and the wine was utterly lost, but it should have stood out. By itself it's nice, smooth, medium tannins and with slight fruit but not at all jammy. I recommend seeking a differ year as this one was disappointing.



Ross Andrew Glaze Cabernet Sauvignon – 2015
Middling cab, needs air or serve with aerator. Might get better with some years under its belt. Moderate tannins, moderate blackcurrant notes, moderate finish. As a result it seems overmoderated. I drank this solo but might liven up with a good food pairing. Maybe.



Fidélitas Optu Cabernet Sauvignon – Red Mountain WA – 2013
Dry cab, like a taxi that's never been washed. Sting of leathery tannin bite masks any fruit here but it's also not as meaty as, say, one of those tannats from Uruguay. Overall was not particularly pleasant, and I'm not convinced this will improve with age.


---
The Whites
For a Song Chardonnay – 2015
Surprisingly good chardonnay probably because it eschews typical shardy tropes. This is light on the oak but not at all on the opposite (steely) end of the spectrum. Little slices of apple and chamomile play together very nicely. Finish is a bit tart but not too much so. You won't mistake this for a traditional chardonnay and that's a good thing.




Tamarack Chardonnay – 2015
Readers of Winepisser.com know I am not a chardonnay fan and here's an example of why: it's boring. This shardy is the liquid equivalent of tilapia; it takes on whatever flavor you pair it with, but has no character of its own. I tasted a hint of pear and maybe some apple if I squinted my imagination. Otherwise nothing.


Poet's Leap Riesling – 2015
Wow. Very unique reez, this has the smoothness of a chardonnay but is definitely riesling. Not much nose but what is there is floral. On the tongue it's a flavorful hit of apples but not too tart. Not sure how they made this buy I blame magic. Worth seeking out.




---
The Winners
The Walla Walla area within the region is said to have the best wines, superior to those elsewhere in the Columbia Valley, and the prices seem to reflect this: labels with the "Walla Walla" name on them seemed to fetch a higher price. So perhaps it's no surprise that one of the two 5-star wines of this outing bore the mark.
Walla Walla Vintners Cuvée Red Blend – 2013
Tremendous! Nose is potent with blueberries and spices and musk cologne and mossy earth. The you're hit with a smooth, balanced-tannin experience of flavorful berries and a hint of cellar must. Paired with spicy lamb chops – seriously – and it enhances the plate, never wilting. Perfectly balanced. Highly recommended. Suggestion:serve cooler than you would an ordinary red.
Learn more here.





One the white side, a surprise late entry — literally on the last day of the trip — won five stars after it was served to us at trendy alt-burger joint Woodblock, a place I'd recommend since it was the only hipster joint where the food didn't taste like cardboard. In fact, their menu is first class, the wine list pretty spectacular, and they didn't play Van Halen while serving Mexican food like the awful Matador restaurant nearby.
Hestia Cellars Riesling Yakima Valley WA – 2013
Vivino says this wine comes from Oklahoma which apparently got annexed by the state of Washington where the Yakima Valley — part of the Columbia Valley — actually is. Seriously, look: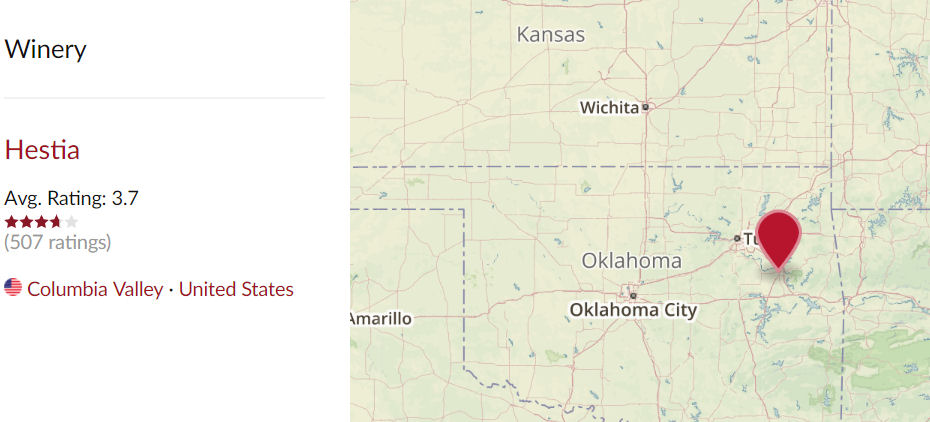 Geography's hard when you're drunk. I guess.
Middling reviews on Vivino surprised me because this is actually a fantastic riesling! Fruit and flowers on the nose and then it's all rich pear and pink grapefruit and rainbows. This is not oversweet though, so don't misread me;it's just right, with enough sugar to keep it in the reez family but not enough to call it anything but slightly dry. Gorgeous fruit and perfume.
Check out the winery's web page here.