You have to be really, really oversensitive about alcohol to let it ruin fucking Disney World for you, but that's exactly what Insider's "culture reporter" Kim Renfro allowed happen.
Renfro, apparently from California, is used to going to that state's "dry" Disney parks, where alcohol is not served. So she was shocked to find what was going on over at Disney's debauched sister location in Orlando FL, and allowed it to drown out all her fun. Sez Renfro:
Walking around Epcot for the first time, I was taken aback by how much alcohol was advertised in standalone food stalls or draft beer carts. My research ahead of time had told me that alcohol was more readily available in these parks, but what was striking was how rowdy everything seemed in light of the booze.

While Disneyland — the original theme park built by Walt Disney — feels to me like a source of nostalgic comfort, Disney World is a whole different animal. The size difference and increase in rides and restaurants certainly has to do with that, but I found the party atmosphere in Epcot and other parks equally discomforting.
Seriously, go read the entire article.
There's so much wrong with this article, it's clearly an accidental look into the author's own subconscious issues. First of all, to suggest that the entirety of Orlando Disney World — which is comprised of four massive parks — has an alcoholic "party atmosphere" is just a fabricated fib. Only one park — Epcot — is typically the haunting grounds for the drunken set, and even then it's only half of that park (World Showcase.) Anyone who spends five minutes in the other parks knows the "vibe" in Magic Kingdom is very, very different than Epcot's UK pavillion at the World Showcase; ditto for Animal Kingdom and Hollywood Studios.
I've been going to Orlando DW for decades, and have visited hundreds of times, with my main focus being Epcot. I got almost every annual Food & Wine Festival. The amount of times I have seen disorderly behavior? Twice, in almost twenty years. And, coincidentally, both near the UK pavillion, which seems to attract the loudest, less-inhibited drinkers due to its "pub" atmosphere. Much of this is because despite the alcohol, people still behave themselves around children, and Disney's security is both stealthy and swift in dealing with any rowdiness. You won't even know they are there, quietly escorting away any troublemakers.
And, mind you, I'm not drunk when I'm at Disney. In fact, since I'm usually driving, I don't drink at all while I'm there. During the Food and Wine Festival, I make an exception (obviously) and then I stay on property. I'm not risking a swervy drive home. And, besides, I still see rowdy, loud people even at Disney's "dry" parks in California – it simply means some people are loud are loud and noisy, not that they are drunk.
But it's abundantly clear what is going on here. Renfro is mad at Disney for destroying her childhood. This theme pops up over and over in her piece.
For anyone like me who grew up going to Disneyland, the enormity of Disney World alone will overwhelm a first-time visitor. But add on the change of being able to legally drink, and the park will also probably take on a different hue.
And:
Since Disneyland is so closely associated with my childhood, it seems incongruous to go to the park with the intention of getting drunk.
And:
From pop-up stands touting drafts of beer to the mixed drinks on almost every restaurant menu, it was a shock to the childlike inclinations I usually tap into at a Disney Park.
For a "culture reporter," you'd think she'd understand that culture is not intended to placate a single person's dream of reliving their own particular childhood. This reads like a Star Wars nerd freaking out of Last Jedi.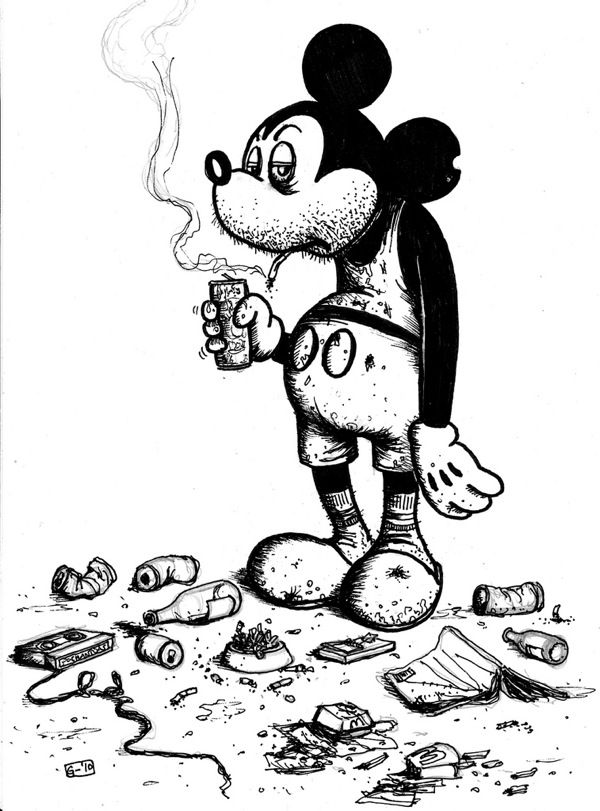 The Renfro article comes off as needlessly smug and judgmental, too, almost like a Jack Chick tract. She's upset because people wear t-shirts with jokes printed on them, saying Epcot stands for "Every Person Comes Out Trashed." She was "taken aback" by how alcohol was "advertised in standalone food stalls or draft beer carts." She was beside herself over what she saw as a "prevalence" of alcohol. The message is clear: she's a clean cut, innocent sort of girl, and the rest of you heathens are disgusting drunks.
And Renfro is apparently no teetotaller. She admits she "indulged" herself, saying she drank "tall cans of beer while waiting in a long line or having a frozen margarita with lunch." But by her own calculation, the image of her drinking alcohol probably led someone else with similar sensibilities to have a full-on stroke, just from the horror, the horror!
But, really? Renfro missed the entire part of the Disney World experience that features, you know, rides and roller coasters? Her alcohol anxiety led her to miss the giant fucking fireworks overhead at night? She was too distraught to notice the Haunted Mansion, Space Mountain, Mission Space, or the exactly 1 billion Disney characters walking around in full costume? She couldn't hear the Pinocchio music or enjoy the mouse-ear icecream pops or get wet on Splash Mountain because some guy had a T-shirt that she didn't like?
You have to go very, very far out of your mental way to let the image of someone else sipping a beer ruin your Disney experience. The article reads like an Amish Scientologist landed into a mosh pit filled with heroin needles and found out later the entire thing was uploaded to Pornhub.
If you think I am exaggerating, consider her closing argument: "In the future, I'll stick to the sober experience of Disneyland — the sugar high of a Dole Whip or Mickey Bar is all I need." The alcohol experience at Orlando's Disney World was so traumatizing, she intends to boycott four entire parks for life, and stick to the "dry" parks.
Sweet jesus. If anything, scientists need to start studying what Disney puts in those Dole Whips, because it's causing some questionable brain activity in those who drink it.